Treatment approach

I take a solution focused approach, offering practical suggestions that you can start using right away to begin to make changes in your life.

I use evidence-based treatment, including cognitive behavioral therapy, positive psychology, relaxation, breath training,  exposure therapy, psychoeducation, and self-regulatory strategies to help you achieve insight and control over your life.  Most importantly, I listen to you with genuine empathy and without judgement.

I believe the most important gift someone can receive is the power to 

guide their own life toward a future that they desire.

A quite, comfortable, and private setting

Issues 

Alcohol and Substance abuse

Insomnia or other sleep issues

Family communication, parent/child conflict

Copyright 2011 Julie Myers, PysD:  Psychologist in San Diego.  All Rights Reserved.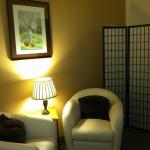 Julie.Myers100@gmail.com

858.414.1079